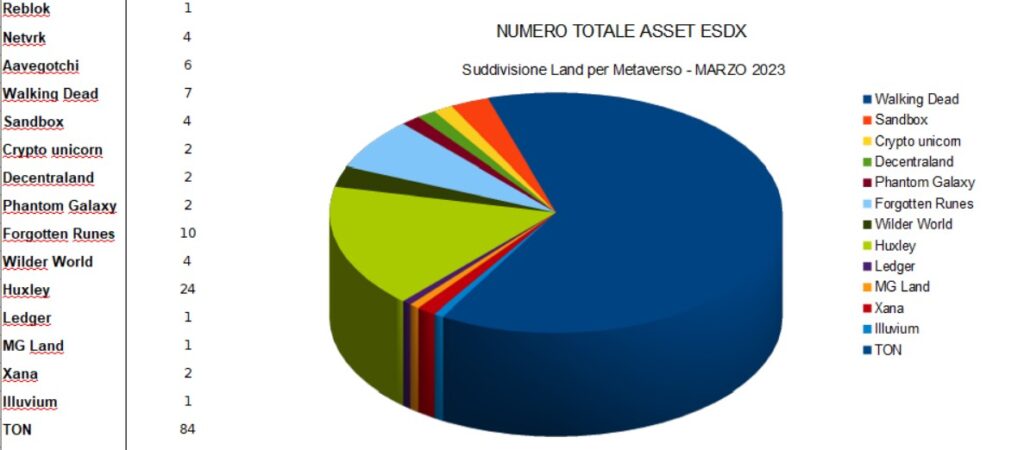 ABOUT ESDX
BALANCE SHEET AS OF 31.03.2023
WHY TON'S BLOCKCHAIN
ESDX FUTURE DEVELOPMENTS
TAXATION OF THE METAVERSE
HOW TO BECOME A PARTNER OF ESDX
ESDX SOCIAL CHANNELS
ABOUT ESDX
ESDX LTD allows you to buy digital assets in the Tech, Blockchain, Metaverse and GameFI marketplaces and keep most of the profits.
The company wants to become the largest owner of NFT and digital land. Collects all the money needed to buy lands and other digital assets in the fields of cryptocurrencies, virtual reality and the metaverse (enough to generate profits). Then, the team develops, designs, improves and sells these digital assets for profit.
ESDX LTD's mission is to return profit to you, as an investor and shareholder.
ESDX LTD acts as a facilitator for those who wish to enter the fantastic world of NFTs, Metaverse and GameFI, but have no skills or simply have little time to dedicate
The company already owns 155 NFTs in different Multiverses, and the number is growing:
see all the assets collected on OpenSea
BALANCE SHEET AS OF 31.03.2023
The chart at the top illustrates the distribution of ESDX's current assets broken down by each metaverse.
In total we own 155 NFTs and the majority of NFTs are on the TON blockchain (54.19%), 15.48% are on Huxley, 6.45% on Forgotten Runes.
The invested assets currently have a value of 25.5 ETH and have created a value of $0.5583 per share. Considering the liquidity still available for other investments, the value per share for those who were among the first to enter ESDX is equal to $1.3516. It means that investments have so far yielded 35.16%.
On 04/02/2023 we filed balance sheets with £177,800 of profits held in reserve. Payables : 0 (zero)
I consider this a much more than optimal result in consideration of the fact that the METAVERSO world and the GameFI world (the ones we operate in) are still in full bear market, and that their exponential growth has not yet begun.
These results have a specific name: TON

WHY TON'S BLOCKCHAIN
TON is the Telegram blockchain, which has made its way into the crypto world in the last year. To make an assessment of the portfolio, as we have not yet sold anything, we based ourselves on investment costs.
But especially on TON, things are actually different.

In fact, we purchased the 84 NFTs relating to TON's private numbers on December 13th when each NFT cost 9 TON. Today each of these NFTs is sold at 52 TON (last sale today at 2.17 pm Italian time).
It means that the trading value of our TON NFT position is over 5x higher than reported.
Since at this stage we have only made acquisitions and sold nothing, we have preferred not to highlight these commercial aspects in the report.
As a matter of seriousness (let's let the scammers create hype), we will do it when we have actually collected the sale of the assets. I personally believe that TON will arrive in the top 5/7 in the cryptocurrency rankings as the Telegram team is building an incredible and one of a kind ecosystem.

So much so that with Cristian Pierini (investment manager) we have planned other NFT purchases on the TON network in a very particular sector, which will probably be explosive in the coming years.
I remind you that the economic value of the metaverse is estimated at 3 to 5 trillion dollars within ten years, and that the GameFi sector will reach an estimated value of 2.8 billion dollars in the next 6 years. It's that our investment vision is 2025.
ESDX FUTURE DEVELOPMENTS
We have started the procedures for the listing of ESDX LTD on EURONEXT Paris, ACCESS segment.
To this end, we have already turned to an Italian listing sponsor who is circulating the ESDX LTD documentation to its reference investors.
After Easter we will also start talks with another English listing sponsor.
The prerequisites for listing on Euronext / Acccess are simple.
You must have at least one institutional investor who has invested in your company and at least one audited balance sheet. I see no difficulty with the first point. It's just a matter of time. On the other hand, I see a bit of it on the certification aspect given how the various governments manage NFTs (the British government has actually moved everything to 2025). This is also why we are talking to several different subjects.
TAXATION OF THE METAVERSE
As tax return time approaches, let's tackle this thorny topic.
ESDX LTD is a company incorporated under English law, therefore English law is our point of reference.
The British government, through an official note of the last few weeks, declared that it will make a special law on the ownership of NFTs by 2025. This means that ESDX LTD up to that moment has no obligation to submit.
For those interested in how the UK is handling the crypto and NFT situation, here is the official PDF file (February 2023) from the UK government on: Future financial services regulatory regime for cryptoassets
Those who have joined ESDX LTD through their own Italian SRL will have to write the participation in their balance sheet among their assets.
Those who have joined ESDX LTD as a natural person will have to declare the value of the investment in the RW part of their tax return.
Those who have joined with their own English or Delaware holding company WILL NOT HAVE TO DO ANYTHING.
HOW TO BECOME A PARTNER OF ESDX OR HOW TO INTEGRATE YOUR POSITION
Those wishing to purchase shares of ESDX can connect to the appropriate collection platform and purchase the number of shares they wish. The cost is set at $1/share.
Here is the link to the platform
ESDX SOCIAL CHANNELS
Web site : www.esdx.io
Telegram : t.me/esdxland
NFT assets : Opensea ESDX account
Fundraising Platform : Buy ESDX LTD shares here

RELATED ARTICLES